There are things you probably don't know about eBay gift cards that you are about to know in this article; things like 'how to use your eBay gift card to pay for your purchase online', 'how to guard your eBay gift card against scammers', 'the items you can buy with eBay gift card' and 'terms & conditions of eBay gift card'.
But first, we will take a brief walk into eBay to help you get a better understanding of eBay gift cards.
What is eBay?
eBay is an American multinational e-commerce corporation that allows buyers and sellers to come together on a universal international market, through its website. There is almost no limit to the items you can buy on eBay ranging from something simple to very complex items. Interestingly, you are free to choose when and how to buy because eBay is a 24/7 online marketplace.
Now imagine you easily buying stuff at 2 AM if you want or late during the evening hours.
There is also another interesting thing about eBay that makes it great for any seller; it is the ability to sell online to anyone that wants the items you want to sell. And because buyers can find items that would rarely be available in their local markets, eBay becomes a suitable marketplace for buyers too.
One thing to keep in mind is that purchases are not only made and paid for with an eBay gift card, you also rarely have any limits when it comes to using an eBay gift card, making it very efficient if you want it for simple purchases or something more complex.
This is what makes it well worth it, and the payoff can indeed be second to none all the time. That's why you want to use a gift card because it makes it easier to buy stuff, and there's no denying the fact that the experience is better in the long run.
So if you want to browse eBay for great deals on vintage clothing, collector's baseball cards, electronics, or other hard-to-find items, an eBay gift card is probably your idea of a great gift.
What is an eBay gift card?
To simply put it, an eBay gift card is a gift card that can only be used on the eBay website. It's a code that you can apply to your account and it will credit your account with a certain amount of money. There are eBay gift cards ranging from as little as $10 to $200 or more. What is even more interesting is that you can use an entire eBay gift card to buy stuff online, or you can only purchase some of the items. You are free to choose how, when and what you buy.
How can I purchase an eBay gift card?
It is very simple to buy an eBay gift card provided you know where to get it and the ideal price for it. eBay gift cards can be purchased online or in physical stores, and you can use the cards to pay for all or part of your purchase on the eBay site. You can even check your gift card balance at any time using eBay's online tool.
What can I buy with an eBay gift card?
One of the great things about having an eBay gift card is that you can simply buy anything you want with it so long it is available for sale on the eBay website. And there are thousands of items in Electronics, Toys, Motors, Fashion, Home & Garden, Art, Collectibles, Sporting Goods and everything in-between.
When it comes to buying, there aren't any specific restrictions that prevent your choice of buying. As long as the item you want to buy is on eBay and it's available, you can buy it; simple. That helps a lot, yeah? Of course, it does because it makes it much easier to buy anything you want, at any given time.
But you might want to ask what if the item is not available and you just can't purchase it, what then should be your option? Well, the best part is that new stuff is added on eBay all the time, so you won't have to wait for long before buying the stuff you need.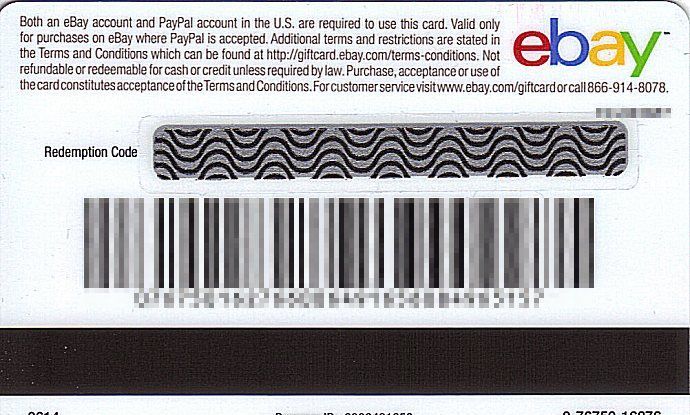 How to use an eBay gift card?
1. Log into your eBay account with your username and password.
2. Add the item you want to buy to your eBay shopping cart or click "Buy it now" to go straight to checkout.
3. On the payment screen, scroll down until you find the "Gift cards, coupons, and eBay bucks" field and enter the 13-digit card on the back of your eBay gift card. Alternately, if you received a digital gift card, this number should be included in the email it was attached to.
4. Click "Apply."
5. Your item total will then be updated. If there's enough money on your eBay gift card to pay for the entirety of your purchase, you will see your balance at $0.00. Otherwise, you will see the remaining balance left
How to guide your eBay gift card against scammers?
First things first: Treat your eBay Gift Card redemption code like cash.
Never give or send your eBay Gift Card code to anyone outside of eBay.com checkout. That's a scam. You might want to read that again.
Your eBay Gift Card can only be redeemed at checkout on eBay.com.
Do not use your gift card to pay anyone outside of the eBay platform.
Additionally, eBay will never ask you to email your personal information. And always remember that if eBay needs you to update your account or provide any information, they will always send a request copy to your Messages folder in My eBay. It won't cast you a thing to always check there first.
What are the terms and conditions of the eBay gift card?
Here are 5 terms & conditions that apply to eBay gift card
The funds on the Gift Card do not expire. No fees apply.
Protect the Gift Card like cash. Lost, stolen, or damaged Gift Cards will only be replaced if the Gift Card has never been used, and only with satisfactory proof of purchase and Gift Card number, where required by law.
eBay reserves the right to correct the Gift Card balance if we believe that a clerical, billing, or accounting error has occurred. You also agree that we may deactivate, cancel or suspend any Gift Card and freeze any associated Gift Card funds if we suspect fraud, unlawful activity, or improper Gift Card use. You agree that you will not use a revoked Gift Card.
The Gift Card is not a credit, debit, or charge card. No implied warranties attach to it.
Use of the eBay services is subject to eBay's User Agreement. Gift Card users must be or above 18
What are the restrictions of eBay gift cards?
Here are some of the restrictions of eBay gift cards.
The Gift Card is not refundable or redeemable for cash or credit unless required by law.
The Gift Card may be used to make purchases only up to the available balance on the Gift Card. The available balance of the Gift Card is reduced by the amount of each purchase of goods or services and by other deductions, if any, that may be required by law.
If you want to use the Gift Card to make a purchase that exceeds the available balance on the Gift Card, you must combine the use of the Gift Card with additional payment from another funding source.
The Gift Card may not be used to pay eBay service fees.
The Gift Card also may not be used to buy eBay Gift Cards, third-party gift cards, gift certificates, coupons, coins, paper money, virtual currency.