Are you wondering how to sell iTunes and Amazon gift cards in Nigeria? You're in luck. We know where you can sell not only iTunes and Amazon gift cards, but other gift cards as well. Consider selling on kingcards.ng.
Let's stop now, and start from the beginning, shall we?
Characteristics of A Good Gift Card Exchange Platform in Nigeria
There are certain things that are expected from a good gift card trading platform in Nigeria. Some of these are;
The platform must be trustworthy
A good gift card exchange platform offers a great rate
The transaction must be easy and comfortable
Such an exchange must offer a flexible payment option
The response must be prompt
Outlined above are some traits expected from the best sites to sell iTunes gift card in Nigeria.
There is just one question to ask here, is there any gift card exchange platform in Nigeria that meets these requirements?
Yes, there is. Consider Kingcardsng.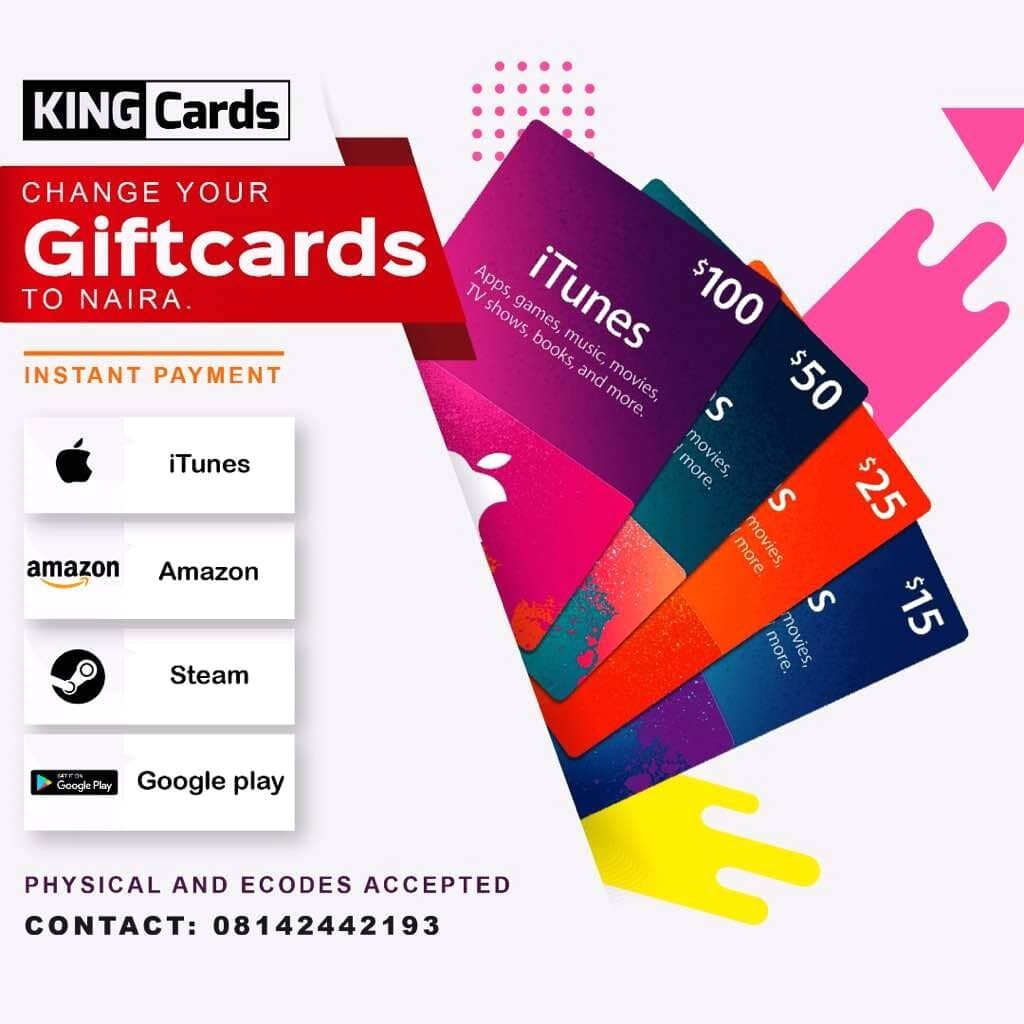 Who is kingcards
Kingcards is currently one of the most trusted online trading platforms for gift cards in Nigeria. Not only for they accept the more popular iTunes and Amazon gift cards, you can also sell Google Play, Steam, Walmart, and other gift cards on this platform.
The one thing one thing you should know about Kingcardsng is that they are direct loaders, not middlemen. What does this mean, you ask? It implies that you would be selling your iTunes gift cards at the best rate you can get in Nigeria.
As said earlier, Kingcardsng does more than purchase iTunes gift cards. Their reputation as one of the most trustworthy platforms to sell gift cards in Nigeria was built on trading all brands of gift cards. Trade Now
Gift Card Types Accepted on Kingcardsng
Outlined below are some gift cards you can exchange for Naira on this platform, based on the category.
1. Denomination
Unlike a lot of gift card exchange platforms in Nigeria, Kingcardsng accepts all denominations of gift cards. It doesn't matter if you have as little as $25 or as much as $200, you can easily exchange your iTunes gift card for Naira on Kingcardsng.
2. Currency
The most popular currency as far as gift card exchange is concerned in Nigeria is US dollars. But, Kingcardsng accepts other major world currencies as well.
So, whether your iTunes gift card is in AUD, CAD, EUR, or GBP, you're still going to be able to sell the iTunes card for Naira on this platform.
3. Gift Card Brand
So far, we have made a lot of reference to iTunes gift card. However, that's not the only brand of gift card that is accepted on this platform. Kingcardsng accepts other brands of gift cards such as; Trade Now
Steam Gift Cards: You won't be required to produce a receipt before selling your steam gift cards
Amazon Gift Card: Sell your cash, debit or credit receipt, ecodes and No-receipt Amazon gift card on this platform
Google Play gift cards: Like the Steam and Itunes gift cards, you don't need a receipt to sell it on this platform.
Other Gift Card: Other accepted gift cards on this platform include Target gift card, Walmart, PlayStation, Nordstrom, etc.
These are the reasons to sell your iTunes gift card on Kingcardsng.
1. Trustworthiness
Gift card trading in Nigeria requires a high degree of trust. You need a platform that is not trying to cheat you out of your hard-earned gift card. This is what Kingcardsng offers.
With this website, you can sell your iTunes gift card in Nigeria with your eyes closed, knowing that you'll receive its value without any drama.
If you're still in doubt, check out loads of testimonials on their website and the social media page.
2. Ease of Transaction
Kingcardsng offers one of the easiest ways to sell your iTunes, Amazon or any other gift card in Nigeria.
It takes just a couple of minutes after contacting a Kingcardsng agent to get a credit alert. of course, your card must be verified first.
3. Highest Rate in the Business
Make no mistake, Kingcardsng offers one of the highest rates in the business. How is this possible, you ask? Two reasons;
No Middleman
Large Sales Volume
As said earlier, Kingcardsng are direct loaders. That means you'll be skipping the greedy middlemen and their commission.
What does this mean for you, you ask? Better rate.
In addition to this, Kingcardsng enjoys a large sales volume. That means we don't need to increase the price margin to make a decent profit, no. The satisfied customers that always return to trade keep us in business.
4. Flexible Payment Option
You won't find a more flexible payment option for the sales of your gift card in Nigeria, than that offered by Kingcardsng. Aside from guaranteeing instant payment for your iTunes or Amazon gift card, you also have an option of receiving cryptocurrency payment rather than fiat.
You should be convinced at this point, what Kingcardsng is and the services offered on the site and understand why you should sell iTunes gift card in Nigeria on this platform. There is just one question left, how can you sell it?
How to Sell iTunes Gift Card in Nigeria on Kingcardsng
There are five steps involved when trying to sell iTunes gift cards on Kingcardsng. These steps are summarized below; Trade Now
1: Visit kingcards.ng/register
2: Confirm that your card is valid
3: Make Contact with a Kingcardsng agent
4: Send unredeemed Gift Card with bank account details
5: Receive credit alert from your bank
That's right, it is the most stress-free transaction you'll ever make!
We give bonus on quality refferals.
Trade with the best today!!!