Most people think they need multiple cards to buy items when they actually use a Target gift card.
Of course, Target gift cards allow users to shop in more than 1,600 Target shops, SuperTarget stores, and on Target.com in the United States. Users can buy items such as small appliances and electronics, accessories, home décor, e.t.c., with this card without extra charges. 
I love Target gift cards because they don't expire. They can also be redeemed at various nationwide Target stores and on Target.com. 
But where can you buy Target gift cards? How do you check the Target gift card balance? Does a Target gift card have a number? Don't worry; I've got your back.
I've detailed all you need to know about Target Gift Cards in this article. You'll also learn how to use Target gift cards online. So, without further ado, let's get started.
What is a Target Store?
Target store is a popular U.S. retail chain where gift cards are sold to customers. Gift cards are also sold in-store, online, and on the Target app. The Cards are available in a wide range of denominations and redeemable.
What is a Target Gift Card Used For?
A Target gift Card is used to purchase items that equals to its value anywhere in a Target store, or on Target.com. It's safe to use, redeemable, and functions within the United States.
Items you can buy with Target Cards include electronic, home décor, alcohol, and other restricted items. You can also use it at Starbucks within Target stores.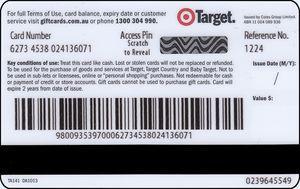 Forms and Denominations of Target Gift Cards
Target Cards come as a physical, eGift , or as a Mobile Target GiftCards. Its denomination varies based on the platform it's available.
For instance, physical Target gift cards can be purchased in-store at any amount between $5 -$500. However, if purchased on Target.com or in the Target app, the denomination will be $10, $20, $25, $50, $75, $100 & $200. 
The same applies to Target eGift Cards.
Places you Can Buy Target Gift Cards besides Target In 2022?
You can buy Target Gift Cards in-store during checkout, on Target.com, or at the Target app. You can also buy them from over 10,000 retail stores in the United States including Kroger, Rite Aid, Pick N Save, Lowes, and Safeway. 
Target Cards are also available in Wawa, Staples, Walgreens, and Meijer, as well as online from third-party retailers like Amazon and eBay.
How to Buy a Target Card on Target.com?
Follow the procedures below to buy Target Cards on Target.com:
Visit the Target Gift "Cards page "
Click "Target Gift Cards" and select your choice of gift Card design
Select the "amount" of the gift Card value you want to buy
Select your "delivery choice" (Email, Mail, or through Mobile) 
Click "Add to cart"
Click or type your preferred amount and select "Add to cart" again & check out to proceed with checkout. 
NB: You can edit the quantity in the cart here.
Click "I'm ready" to check out
Follow prompts to complete the order
What your Target Gift Cards can Buy?
If you've been wondering what you can use your Target gift Card for, the list below will give you a clue:
Alcohol and other restricted items
Starbucks within Target stores
You can also use Target cards at Target Café
At CVS Pharmacy within Target stores
In-store at Target Optical
What you cannot Buy with your Target Gift Cards?
Your Target Gift Cards cannot buy the following:
Third-party gift cards (American Express® gift cards, Visa® or Mastercard®)
iTunes gift cards
Specialty gift cards (food, music, entertainment, restaurant, gaming)
Target Optical online
Target Gift Cards
You cannot also use it to make RedCard payment(s).
FREQUENTLY ASKED QUESTIONS
1. How do I use a Target Visa Gift Card on Target.com?
You can use a Target Visa Gift Card on Target.com by typing the gift card as your credit card payment and using the CVV code during the checkout process. 
2. Where can I use a Target Visa gift card?
You can use Physical Target Visa gift cards with American Express, Visa, or Mastercard logo at any merchant that accepts them. But you can't use the Card at casinos, cash advances, or ATM transactions.
How Can I Use My Target Gift Card?
You can use your Target Gift Cards only at Target and on their websites where you can redeem part or all its equal value. You can also use it in-store during checkout as the first tender before using other payment methods. 
But such cards must have scannable barcodes to make it redeemable at a Target store.
Where Can You Use Target Gift Cards In 2022?
Unfortunately, Target Gift Cards are restricted, so you can only use them on Target stores and online at Target.com as of 2022. You can also use them at CVS, Starbucks, and on Target Optical as long as the stores locations are within Target. 
Can I Use A Target Gift Card Online?
Yes, you can use Target Gift Card to make purchases online but this has to be on Target.com. 
Note that you cannot buy items that are more than 10 with your Target Gift Cards daily as payment at checkout.
Can I Cash Out with A Target Gift Card?
No, you cannot cash out with your Target Gift Card unless you visit a regular Target shopper. You can only use a Target card to shop and receive its equal worth of items.  Can I use a Target Visa gift card on Amazon?
Yes, you can. However, you must use all the balance in your account to buy the items on Amazon without using it for other payment methods. 
Can I use a Target Visa Gift Card on PayPal?
Yes, you can use a Target Visa gift card on PayPal anywhere within the United States. Check if your gift card has MasterCard®, Visa®, Discover®, or American Express® logo on it and you're good to go. You can use this Card like other credit or debit cards.
How Can I Add Two Visa Gift Cards?
You can add two Visa Gift Cards by using the balance on the account to complement the other. But you can't combine the two cards' balance on a single card.
What Could Be The Reason Why My Gift Card Was Declined And What Is The Way Out?
Your card may be declined due to any of these reasons:
You haven't activated your card.
The cashier selected the wrong type of transaction for you
Your balance is less than the item you bought
The credit card processing machine increased the charge amount to either place a hold on your card or to allow for a gratuity
Way out include:
Activate the card before use
The cashier should select the right account for you
You should buy items worth less or equal to your balance
Who can I reach out to if My Target Gift Card is Not Functioning?
You can contact Target Card Services if your card is not functioning. Or you can contact the number at the back of the card for a third-party Card.
Do Target Gift Cards Lose Value?
No, Target Gift Cards don't lose value.
Do Target Gift Cards Expire?
No, a target gift card does not expire; even if it's printed.
How can I Check the Balance on My Visa Gift Card?
You can check the balance on your Visa Gift card by checking its back and calling the toll-free number there.
You can also check your balance by visiting the card issuer's site and entering your card's 16-digit number and security code.
How Do I Return the Target Card If I'm Not Pleased with It?
Unfortunately, Target does not honor returns or refunds.
Do I need to activate the Target Visa Gift Card with Fee?
No, however, you may be charged $4 occasionally.
Can I redeem my Gift Card on Target.com?
Yes, you can redeem your card on Target.com.
How Can I Activate A Visa Gift Card?
You can activate a Visa Gift Card by following the steps below:
Find the activation instructions
Locate the gift card numbers
Activate the card using the 16-digit gift card number that's located on the front of the card
How Do You Use A Visa Gift Card For Online Purchases?
It's super easy. Simply enter your card number, expiry date, and the 3 digit code "CVV" at the back of your card.
Occasionally, websites will ask the name on the card; simply input "Gift Card" in the provided field.
How Can I Add A Visa Gift Card To My Target Wallet?
You can add a Visa Gift Card on Target App by doing the following:
Access your Target account in the Target App
Click "Wallet tab"
Click "Add" within the GiftCard section
Select "Add Gift Card"
Scan the "Target barcode" on the back of the Target Gift Card or type the gift card number and the access code to add the Visa Card to your account.
Conclusion
Above are all you need to know about Target Gift cards.
Target Gift Cards, unlike most cards, don't expire or lose value. It allows you to buy items on Target, a few third parties, and various retail shops in the United States. While buying items at these stores you'll not be charged with extra fees.
I like Target gifts because they're redeemable and you can also buy them either in physical form, as eGift Cards, or as Mobile Gift Cards through Target.com.