The popularity and growth of non-fungible tokens have been rapid and exceptional for the past two years. The NFT tokens facilitate the tokenization of anything from an image file, music, or even a tweet that cannot be exchanged for something similar because they are unique.
However, their popularity has not only led them to become almost every major crypto exchange in the market but there also seems to be a countless number of NFT cryptocurrencies that are available in the market for sale, with thousands of new projects being launched daily.
And even though the development of the NFT cryptocurrency domain is still in its nascent stage, it is quite obvious that the top NFT cryptocurrencies are already dominating the crypto market.  Learn about crypto trading algorithm in our other articles to begin better understand the crypto space
And this, among other reasons, is why crypto experts have maintained that the year 2022 will witness several brands participate in the NFT market, including Budweiser, Adidas, and others. After all, with the rising growth of profitable NFT cryptocurrencies, the trading volume, asset liquidity, and the number of new users will continue to expand the market. Read about top 10 crypto currency exchange platforms in Nigeria
In addition, the Web 3.0 infrastructure is predicted to enhance the growth of NFTs.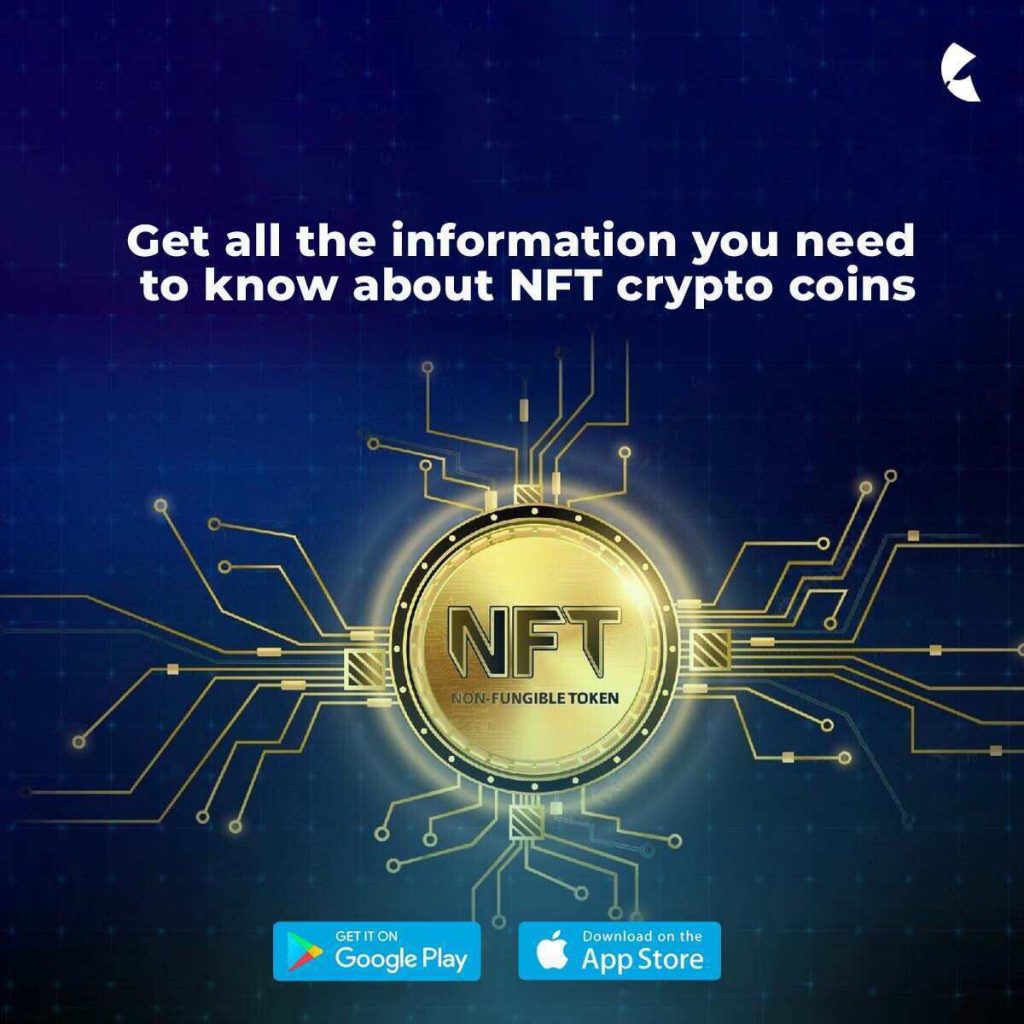 Be that as it may, we have mentioned the top 10 NFT cryptos, in no particular order, and where to buy them below:
Decentraland (MANA)
Opened to the public in February 2020, Decentraland, which ranks as one of the top NFT cryptocurrencies to invest in right now, is a 3D virtual world browser-based platform. Users may buy virtual plots of land on the platform as NFTs via the MANA cryptocurrency, which uses the Ethereum blockchain.
Also important to know is that MANA is one of the largest NFT cryptocurrencies by market cap. And based on the Ethereum network, Decentraland offers 3D virtual plots of lands secured with ERC-721 tokens called LAND. Subsequently, this virtual real estate can be leased or outrightly sold by the owner for significant gains on the Decentraland marketplace.
Axie Infinity (AXS)
Widely considered the holy grail in the NFT community, due to the partial ownership that the players enjoy by utilizing the Axie protocol, Axie Infinity is a top NFT cryptocurrency to invest in in 2022.
However, one of the major qualities that make Axie Infinity a good investment opportunity is the utility that the token has in powering the game. The game currently has over 2.8 million daily players, with a whopping $3.6 billion of AXS traded in the game. And these numbers multiply, AXS coin could rise in value
Important to note is that Axie Infinity is focused on building a strong appeal in gaming and recently released its Ronin protocol- a layer-two protocol.
The Sandbox (SAND)
The Sandbox is another NFT cryptocurrency to invest in as the crypto ecosystem witnesses widespread adoption. Another top contender for the new metaverse sub-sector is the Sandbox NFT which is focusing on revolutionizing the gaming industry by allowing the creation, sharing, and monetization of in-game assets. For the past couple of months, the SAND token has risen immensely.
However, at the time of writing this article, the sand token price is about $2.97, but sources have it could reach around $12 by the end of the year. This is a reliable SAND Box price prediction, making it a great investment in the future.
Ejin Coin (ENJ)
Enjin Coin has real-world applications and is also laser-focused on the gaming industry. One unique quality of Ejin Coin is that besides focusing on revolutionizing the gaming space by driving up a player-driven economy, the NFT token also enables the tokenization and subsequent transfer of in-game assets across several platforms. This Ethereum-based network is currently planning on expanding into the heterogeneous network called Polkadot to avoid the high gas fees accompanied by the ETH network.
Enjin demonstrated its ability to hook the gaming community during an action-packed 2021, and with the launch of Efinity, the Enjin ecosystem could see another eventful year in 2022.
My Neighbour Alice (ALICE)
My Neighbour Alice is a blockchain-based multiplayer building game that presents itself through a fun, player-driven storyline filled with blockchain-powered features. The game's storyline provides an ideal outlet for social interaction and creativity among users.
It enables users to borrow and lend their NFT assets. Lenders are rewarded based on their loans and can earn a yield for lending non-fungible tokens. Lending is supported by the use of smart contracts, while users can also sell their ALICE tokens and NFTs
WAX
WAX or Worldwide Asset Exchange is a decentralized exchange that works as a reliable and fair marketplace where users can exchange virtual goods tokenized as NFTs. Its expansive network certifies and authenticates digital goods using its blockchain. It has also become one of the most popular NFT exchanges, with the entire collection being sold out in no time.
Tezos (XTZ)
The Tezos blockchain team promises a more robust blockchain experience for users as it is more scalable, energy-efficient, and inexpensive. Tezos' appeal lies in its auto-upgradable software, one of the first in the blockchain ecosystem. The Tezos team states that the protocol is future-oriented, making it easy to scale without needing to perform a network hard fork. 
Flow (FLOW)
Flow is a fast, decentralized, and developer-friendly blockchain that is designed to be the foundation for a new generation of games, apps, and digital assets that can power the rest of the virtual products. Flow is a layer-one blockchain created by a team that has consistently delivered great consumer blockchain experiences to the users.
Chiliz (CHZ)
Chiliz is the leading digital currency for sports and entertainment. The platform operates the blockchain-based sports entertainment platform Socios, which enables users to participate in the governance of their favourite sports brands. Fan tokens are also given away by this platform.to unlock new revenue streams.
ApeCoin
APE is a token made to support what's next, controlled, and built on by the community. It will serve as a decentralized protocol layer for community-led initiatives that drive culture forward into the metaverse.
Where to buy NFT Crypto Coins?
1. Binance
Binance is one of the world's largest and best-known cryptocurrency exchanges. Binance was founded in 2017 by Chanpeng Zhao, a well-known cryptocurrency developer.
It raised funding for the exchange by running a successful initial coin offering (ICO) at the time. Since then, going forward to establish itself as one of the most well-known and trustworthy exchanges in the industry.
Binance, based in Malta, has quickly become one of the most popular crypto exchanges for traders, thanks to its reputation for transparency, a diverse choice of cryptocurrencies, and low exchange costs.
2. Coin Base
Coinbase is a publicly-traded cryptocurrency exchange that is listed on the New York Stock Exchange (NASDAQ). It is one of the most popular exchanges in the United States, with clientele from more than 100 countries, including Australia, Canada, Singapore, and the United Kingdom.
Coinbase has seen over 70 million users trade over 460 billion dollars in volume. With 98 percent of customer funds housed in secure offline storage, security is a top priority. The platform is simple to use and is available on desktop, Android, and iOS, with over 140 cryptocurrencies
3. eToro
eToro is a well-known online brokerage that specializes in cryptocurrency and stock trading. When it implemented support for Bitcoin (BTC) in 2014, it was one of the first online trading companies to support digital currency trading. It then added support for Ethereum (ETH) and Ripple (XRP) not long after.
Today, eToro's popular online trading platform supports more than 60 cryptocurrency assets, as well as an enterprise-grade crypto exchange for professional traders and a multicurrency crypto wallet. Making it the top answer for people asking where to buy. You can read about top 10 cryptocurrencies to choose from and begin trading