Gift cards are prepaid money cards that are used as an alternative payment method to purchase products and services in physical stores and online. They can be substituted for cash to make purchases. In some situations, it can be used to pay a portion of the total cost, with credit, debit or cash used to balance. You can describe it as digital cash and it holds monetary value to serve as a means of payment in countries worldwide including Germany, Italy, Mexico, and many more.
Gift cards are backed by an online electronic system used in stores, restaurants and anywhere they are accepted to make purchases of goods and services easier. They are available in most countries, but not all types are redeemed in all countries. For example, some Amazon gift cards can be used regardless of the country that you are shopping in, while gift cards from location-based companies can only be redeemed in the country that the company is located.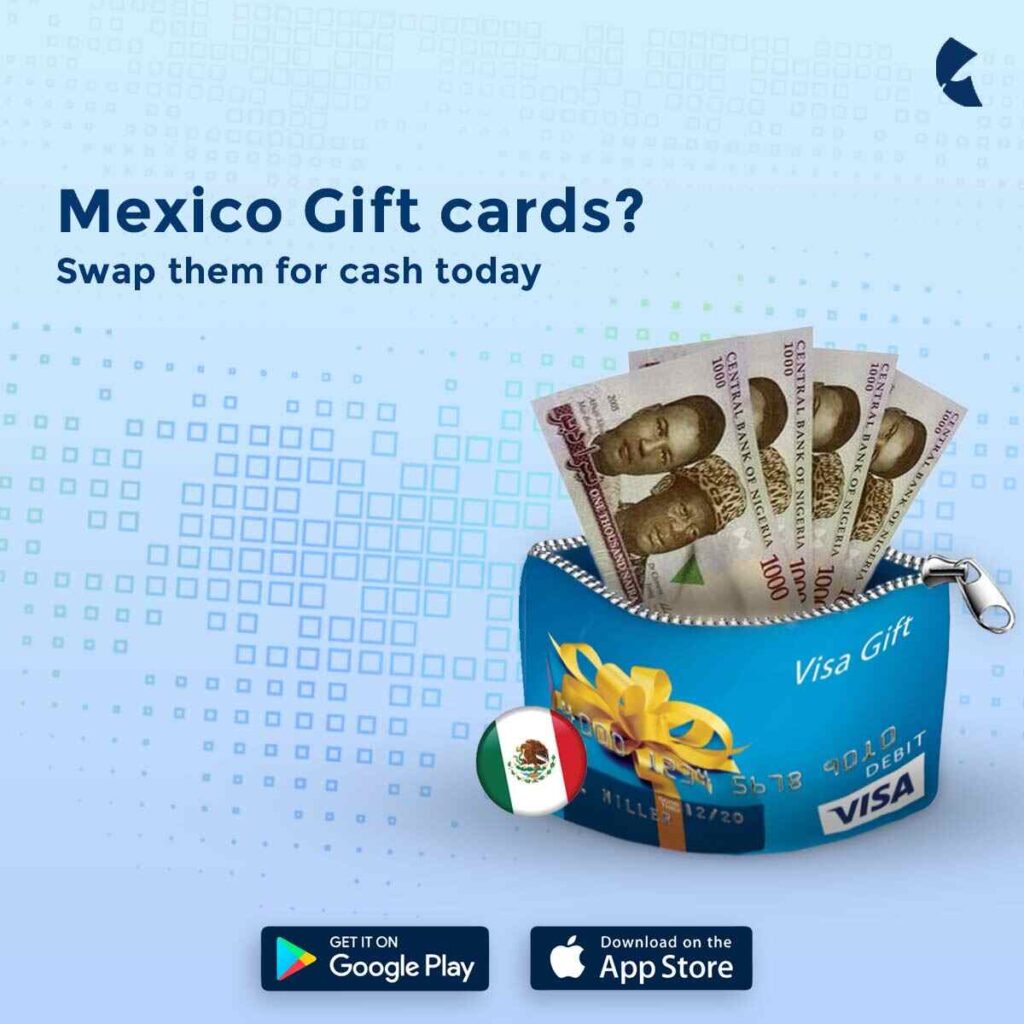 Benefits Of Gift Cards In Mexico
In a way, some gift cards are better than cash because they offer some form of payment flexibility and several other benefits.
You can choose whatever you want to purchase within the amount on the card.
In some cases, you can sell the gift card for cash.
It is a great and thoughtful gift for friends and family.
Gift cards can be for holidays or occasions and to control spending like avoiding overdrafts.
There are some hiccups with using gift cards In Mexico.
Except if you are using cash gift cards, when you load money on a gift card you can only spend it at accepted locations and specific websites. This means that you can't use a card issued by one store to purchase from another store. Secondly, you might be charged an inactive fee if you fail to use the card.
The Rise Of Gift Cards In Mexico
Though gift cards have always existed, in recent times they have become more popular because of the global supply chain crisis which led to inventory shortages among retailers around the world. Also, the growing demand for online streaming services where payment is needed online via debit and credit cards boosted the demand for gift cards.
The trend of gift cards is not about to drop; rather there is expected to be a rise in the demand for gift cards worldwide. According to persistent market research, the global gift card market is expected to achieve an annual growth rate of 12 per cent through 2031. Mexico is not going to be left out because there has been a rise in the number of stores offering gift cards and available gift cards from global companies in Mexico.
Classification Of Gift cards Available In Mexico
Gift cards exist in two forms and both types can be used in person or online. They have a minimum and maximum loading amount and are classified as open-loop or closed-loop.
Open-Loop Gift cards
Open-loop cards can be prepaid cards, gift cards, debit cards, or credit cards and can be used anywhere the brand of card is acceptable. These cards can be used to make electronic payments anywhere (physical stores and online) and are usually reloadable.
Closed-Loop Gift Cards
Closed-loop cards (single-purpose cards) can only be used to make purchases from a single company or retailer. They usually will not require any activation fees and will not include the financial services company that handles transaction mechanics. They include the merchant's logo as advertising for the store. Unlike the latter, closed-loop cards are not reloadable and may also have an expiration date while limiting purchasing power.
The Gift Card Industry In Mexico
In Mexico, gift cards are accepted and can be used in stores, gas stations and other locations. Gift cards have gained popularity among consumers in Mexico and are expected to gain even more momentum. Gift cards in Mexico attract foreign players, due to the rising popularity of blockchain technology in bitcoin and cryptocurrency. They present a convenient way to buy cryptocurrencies and also to make money across borders in large amounts without breaking the law.
With this, global payments enter Mexico through partnerships with physical stores that allow consumers to pay through gift vouchers. The gift card industry in Mexico has done well to withstand economic slowdown with negative business and consumer sentiments. It is expected to continue growing exponentially, creating opportunities for fintech companies to introduce new products.
According to research, the gift card market in Mexico is expected to impact retail and corporate segments due to disruption by the Covid-19 outbreak. The shift to online services will support the growth of gift cards in Mexico. As a response to the global pandemic, governments offer incentives, including gift cards to boost the vaccination rate.
Are Gift Cards Used In Mexico?
Mexico has one of the most important gift cards markets in the world and is supported by the growing e-commerce market. Gift cards are available and accepted in stores to make purchases while companies use gift cards to offer rewards and incentives for marketing purposes.
Gift card popularity in Mexico is growing among online shoppers to avoid the hassle of buying presents during occasions and this can be attributed to increased internet penetration and reward programs.
Additionally, the rising number of internet users will ensure gift card adoption, online shoppers resort to gift cards for personal use because it offers the convenience of making digital payments.
Mexico's gift card market has improved due to technology which made people look for safer options to purchase online, while retailers are expected to offer gift cards to drive traffic to their platform, helping with customer acquisition. As the gift card payment methods grow in Mexico, global payment firms enter the market to gain market share.
Meanwhile, physical cards remain the most popular but are expected to change in the future with the presence of digital gift cards (aka E-gift cards). They are electronic codes bought online and sent to your phone number or email. Stores, banks or restaurants issue these codes and are redeemed at any place that accepts them.
7 Popular Gift Cards In Mexico
InComm
InComm is a payment technology company that has made efforts to build value into transactions through payment technologies and improve the created commerce experiences of their customers. They launched their Vanilla Visa open-loop prepaid and gift card in Mexico and partnered with MasterCard, Visa Card and American Express Card to ensure that their Vanilla gift cards are accessible to all their customers.
Tarjeta de Regalo Vanilla: The card is available in thousands of locations across Mexico, as a financial tool. Vanilla Tarjeta cards grant cardholders convenient and safe methods to participate in modern commerce. A single-load card that allows Mexicans to redeem their cards anywhere, where a Visa card, MasterCard, or American Express Card is accepted.
Amazon Gift Cards
Mexico was the first country where Amazon offered a gift card. They called it Amazon rechargeable and it was backed by Mastercard and Mexican bank Grupo Financiero Banorte. Amazon cards are widely used in Mexico and can be loaded at stores or online. This provided a new way to shop on Amazon to purchase gadgets, fashion items, electronics, home furnishings, etc. You can get your Amazon gift cards in Mexico at any Eneba store for as little as $10.
iTunes Gift Cards
On the 4th of August 2009, Apple announced the launch of an iTunes Store in Mexico and it gets better. Apple made it easy for music fans in Mexico to purchase and enjoy music with iTunes gift cards. They can be purchased online from third-party websites and used to pay for subscriptions for music, movies, podcasts, books and other media services that Apple provides.
Google Play Gift cards
Google play gift card is the prepaid top-up card for Google play valid for google play account registered in Mexico. These gift cards can be redeemed within the Google play store and used like cash in the purchase of apps, movies and more. Google play gift cards never expire and can be used anytime. These cards can be used with other funds to purchase whatever you please.
Razer Gold Gift Cards
Razer gold gift cards are used to buy online game credits and support over two thousand online games. You can purchase digital content and console game cards using Razer gold gift cards.
Roblox Gift Cards
You can use gift cards to access a library of games made by developers and added to the platform. With Roblox gift cards you can register to play games or to design games.
Xbox Gift Cards
Xbox gift cards can be used to buy games, apps and movies. It is a versatile card, convenient for gamers and entertainment lovers. It can be bought from Microsoft for redemption online or you can buy physical cards at stores. This card can also be used to purchase consoles and controllers from Microsoft, also gift cards for Xbox are used to play Xbox games online.